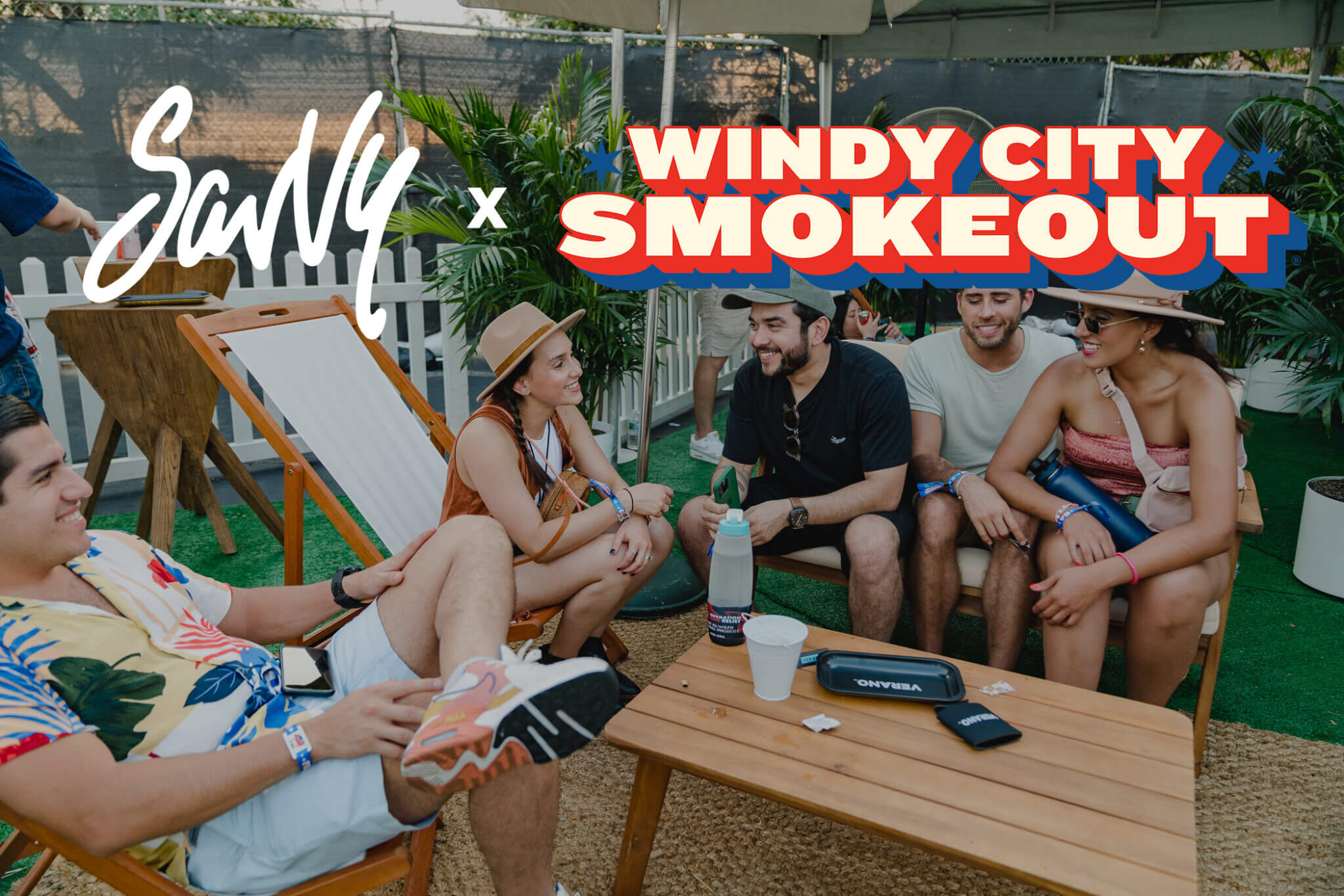 Windy City Smokeout is the best time of year. Each summer, Midwesterners don their cowboy hats and boots to rally at the United Center for today's best country music, barbecue's top Pitmasters, and all-around guaranteed good times – trust us.
Last summer, Verano debuted the first-ever Windy City Smokeout cannabis lounge, a BYOB (bring your own bud) option to sit down, relax, cool off, and smoke your joints or use your vapes. Chicagoans, Illinoisans, and Midwesterners from all over showed up and rolled up, sparking conversations, connections, and cannabis amidst the live music and alluring smells of barbecue.
This year, Savvy carried the torch.
Savvy Smokeout at WCS
Windy City Smokeout is the best of Midwest country culture, and Savvy the best of wallet-friendly bud. It seemed only fitting that Savvy bring dab of canna-country flair.
The Savvy lounge was everyone's favorite spot to cool down, relax, and toke up. Rolling papers, trays, lighters – everything country music fans needed to roll up was there, all under shade and surrounded by swag. Savvy brought a different kind of heat, too, with a spin-the-wheel giveaway. Loungers won everything from flower to Yeti Mugs, grinders to a Yeti Cooler, and entered to win the top prize: a Traeger Dual Grill and Smoker.
The vibes stayed high, from sunshine well into the night. If you didn't make it, get a taste of the Savvy lounge at WCS 2023:
Windy City Smokeout 2023 Lineup
Smokin' out at WCS wasn't the only event, of course. Windy City Smokeout is known for gathering nothing short of the best of country music, and 2023's headliners are proof of it:
Thursday Headliner: Zach Bryan
The vocals of Zach Bryan are indescribable. Gravely and true, passionate and vulnerable, with lyrics to match. The Navy veteran brought his soulful music to a sold-out night at WCS, playing hits "Something Orange," "Heading South," and "Sweet DeAnn" live.
Also on Thursday? Randy Rogers Band, Bailey Zimmerman, American Aquarium, J.R Carroll, and DJ Dan P.
Friday Headliner: Darius Rucker
There was no more exciting genre jump than Darius Rucker's. Though a smooth transition from the folksy rock of Hootie and the Blowfish, Darius Rucker's take on "Wagon Wheel" made him an instant staple, a must-have on every country playlist. His latest hit, "Beers and Sunshine," was the anthem of the WCS weekend, (light) rain and shine.
Also on Friday? Chris Lane, Jo Dee Messina, Jackson Dean, Drew Green, and Dante.
Saturday Headliner: Luke Bryan
Luke Bryan is synonymous with energy. "Country Girl (Shake It For Me)" and "That's My Kind of Night" were amidst. Country music and Savvy fans alike savored Luke Bryan's country twang and each strum of the guitar, all amidst the scents of the best BBQ you can find.
Also on Saturday? Dylan Scott, Kameron Marlowe, Megan Moroney, Tanner Adell, and more.
Sunday Headliner: Zac Brown Band
Zac Brown Band is, by all means, the sound of summer. Their blend of country, rock, and folk has solidified them as a staple at the beach and on the golf course alike. The sold-out Sunday crew vibed to "Toes," danced along with "Chicken Fried," and belted the ballad "Colder Weather," with thousands of country music fans.
Also on Sunday? DJ Steve Smooth, Lauren Watkins, Caroline Jones, Larry Fleet, and Eli Young Band.
The Pitmasters at Windy City Smokeout 2023
While WCS artists are known for bringing the beats, Pitmasters from Texas, Tennessee, Missouri, and (of course) the Windy City bring the heat. Stands were peppered throughout the Windy City Smokeout venue with unforgettable flavors and takes on BBQ, including:
Green Street Smoked Meats – Chicago, IL
A West Loop staple, Green Street Smoked Meats curates an energy and menu that will keeps you coming back for more. Backyard BBQ hits are staples in this warehouse-style spot, as are rock hits, amidst smokey wood decor. Get a taste of Green Street at 12 N Green St, Chicago, IL 60607.
On the WCS menu: St. Louis Spare Ribs, Beef Cheek Barbacoa Elotes
Peg Leg Porker – Nashville, TN
For foodies, the Peg Leg Porker was a must-hit. Award-winning, with a Pitmaster who was asked to cook at the James Beard House not once, but twice, the Music City gem is on many BBQ bucket lists. Family-owned with nearly a decade in business, the beloved Peg Leg Porker is as well-known for its hospitality as it is for its meats. If you didn't get a taste at WCS, make sure to add it to the list for your next Nashville trip.
On the WCS menu: Jalapeño Cheddar Sausages, Cheese Grits
Panther City BBQ – Fort Worth, TX
What started as a food truck quickly grew into a flourishing, permanent spot, Panther City BBQ is committed to BBQ – so much so they offer a BBQ University. That's right, in addition to chowing down on what's touted as Fort Worth's best BBQ, you can learn how to make it, too. If you're ever in Fort Worth, Texas, scoop a plate at Panther City BBQ for a taste you won't soon forget.
On the WCS menu: Smoked Tri-Tip, ChimiChurri, Brisket Elotes
Thanks for smokin' out at Windy City Smokeout
Beats, meats, and (BYO) green made for an unforgettable Windy City Smokeout 2023. Thanks to everyone that boot scootin' boogied through the Savvy cannabis consumption lounge. You brought high vibes and even higher times.
*This post was originally published on June 30, 2023, and was updated on July 17, 2023, to include event details and photos.