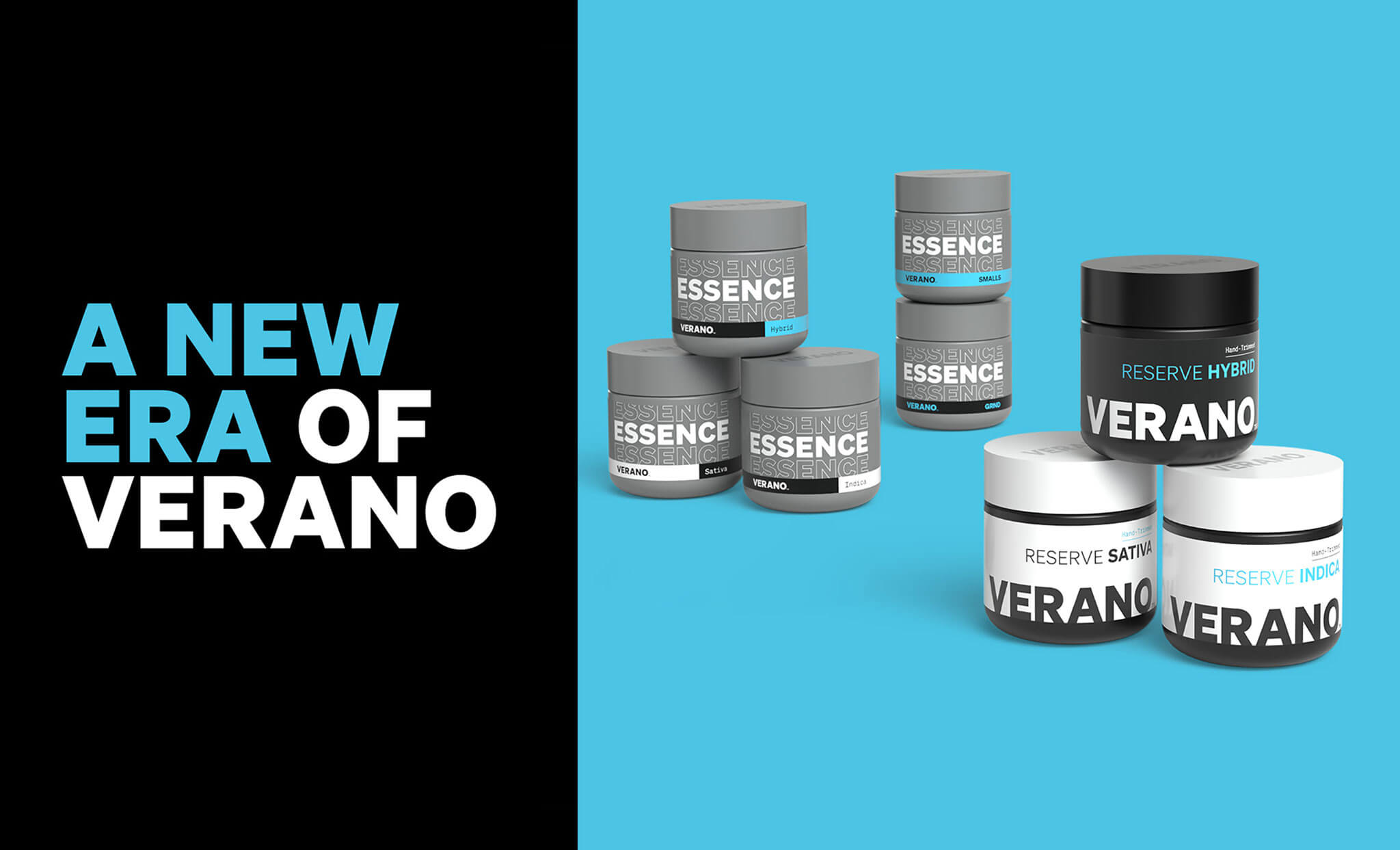 Medical cannabis is legal in 37 states, recreational cannabis in 19, with more states adopting programs every year. Anything is possible in the cannabis space – and we at Verano are defined by these possibilities.
We see cannabis through multiple lenses: as cultivators, producers, providers, and, most importantly, users. Each view lends a different way to explore this remarkable plant and sing its benefits, but none more so than consumer. To us, and we're sure to you, nothing is more important than what's inside the packaging – that's why, just in time for the launch of our namesake products in Pennsylvania, Verano packaging has received an upgrade.
The New Verano
The new Verano packaging is a better reflection of who we are – clean, accessible, and unassuming. Bold patterns were swapped for bold hues and fonts to allow the strains and product to speak for themselves. Verano Reserve and Essence remain the pillars of our product line.
Verano Reserve is the fruition of our top-tier flower – think coveted genetics, hand-trimmed each step of the way. Each strain is extensively cured for 30 days to ensure a robust flavor and scent profile, available in:
Verano Reserve Flower
Verano Reserve Swift Lifts pre-roll packs (where state compliant)
Verano Reserve Swift Lifts Iced infused pre-roll packs (where state compliant)
Verano Reserve Stix (where state compliant)
Verano Reserve Dynamite Stix infused pre-roll (where state compliant)
Verano Reserve Traveler disposable vapes
Verano Reserve 0.5 g vape cartridges
When you think of cannabis strains there are quite a few "classics" that come to mind. Those tried-and- true strains are what inspired the Essence line – cultivars that are dependable and always available. Verano Essence can be explored in:
Verano Essence Flower
Verano Essence Grnd ground flower
Verano Essence Swift Lifts pre-roll packs (where state compliant)
Verano Essence Stix (where state compliant)
Verano Essence Traveler disposable vapes
Verano Essence 0.5 g vape cartridges
What's inside our packaging hasn't changed, apart from new cultivars.
Verano Cannabis in Pennsylvania
The introduction of Verano Products to the Pennsylvania medical cannabis market is one we have long awaited. The state is home to 14 Zen Leaf Dispensaries, whose shelves are now lined our namesake flower for vaporization and (soon) favored extracts in strains:
Gelato – This indica strain should be a staple in medicine cabinets for long-time cannabis users and newcomers alike. Gelato offers a powerful boost of euphoria that fades to deep relaxation, and a sweet dessert-like taste that keeps patients coming back for more.
Wedding Cake – Feelings of bliss take over your body when inhaling this creamy vanilla-flavored bud. Many attest to this hybrid strain giving them a lighter sense of self with calming, soothing effects.
Apple Fritter – This picture-perfect hybrid has dark olive buds with hints of deep purple, and tastes of sweet vanilla with a hint of herb. Many report feelings of blissful relaxation when medicating with Apple Fritter.
Runtz – The uplifting effects of this perfectly balanced hybrid make it a great option for daytime medicating. Flavors of tropical citrus and sour berries sing through this cultivar, which lends chatty, uplifting effects.
Forbidden Runtz – One of the best parts of this strain is its flavor – fruit, rich, and deep pine. Unlike its parent genetic, Forbidden Runtz is deeply soothing, making it an ideal strain to ease into the night after a long day, and the pain away.
Milk and Cookies – Relaxation underlying euphoria takes hold when medicating with this indica strain. As its name suggests, Milk and Cookies lends flavors of creamy vanilla and aroma of citrus, diesel, and spice.
These six strains are just the start of our library of potent, terpene-rich and effective cultivars, all rotating based on the most recent harvests at our Verano Cultivation Facility.
Frequently Asked Questions About Verano Products in Pennsylvania
Where Can I Find Verano Products in Pennsylvania?
Verano is exclusively available at Zen Leaf Dispensaries in Pennsylvania, located in:
Abington
Altoona
Chester
Cranberry Township
Harrisburg
Malvern
Monroeville
Philadelphia
Pittsburgh (Robinson)
Sellersville
Washington
West Chester
Wynnewood
York
Though very soon, Verano Products will decorate the shelves of dispensaries statewide in Pennsylvania.
What Verano Strains Can I Buy in Pennsylvania?
To ensure the needs of medical cannabis patients are met, we produce a host of Verano cultivars. Here is a quick list of the top awaited genetics in Pennsylvania: Pablo's Revenge, Devil Driver, Ice Cream Cake, Guru, and Tropical Runtz.
Keep in mind that a strain's availability in stores is dictated by the most recent harvests at our Pennsylvania Cultivation.
How Much Cannabis Can You Buy at a Dispensary in Pennsylvania?
Medical marijuana dispensaries in Pennsylvania are permitted to sell patients a 30-day supply of products, the quantity of which is determined by your physician. Possessing more than a 30-day supply is considered a crime and can lead to criminal penalties.
What Other States Can I Find Verano Products In?
One of our core beliefs is that everyone should have access to cannabis. To further this belief, we produce Verano Products in 9 states:
Arizona
Florida
Illinois
Maryland
Massachusetts
New Jersey
Nevada
Ohio
Pennsylvania
View the New Verano
Whether you're located in Pennsylvania and marveling at the host of new genetics available to you, in Illinois grabbing your new Swift Lifts Iced, or as far west as Nevada, exclusive to the Verano High Roller, stop by to get your hands on the new-and-improved Verano. Who knows, you may just find your new favorite strain.